Uma planta no Minhocão / A weed in São Paulo
A seedling of a common weed sprouted in the middle of the concrete jungle of central São Paulo, asserting the strength and resilience of nature, and celebrating the fresh ideas in urbanism that are slowly germinating there.
Appropriately growing from the roof of a gas station, and towering over the most condemned elevated freeway of Sao Paulo, a dictatorship-era imposition snaking through the center of the city nicknamed the Minhocão ("the big worm"), this mural heralds a shift towards new, more life-affirming ideas for the use of this public space, which have been manifesting themselves through countless system-questioning culture-jamming and art interventions there.
One major contributor to this discussion through his art and activism over the years is Felipe Morozini, who was the curator of the 2015 Virada Cultural festival, and who invited me to create this mural as part of my WEEDS series, which resonated conceptually with the intention shared by several performances and visual interventions he orchestrated for the occasion.
The plant I painted was loosely based on an achyranthes aspera, a weed that occurs in the area and specifically on the Minhocão, as has been documented by my new friend and comrade-in-poetry, the noteworthy brazilian artist and botanist Laura Lydia.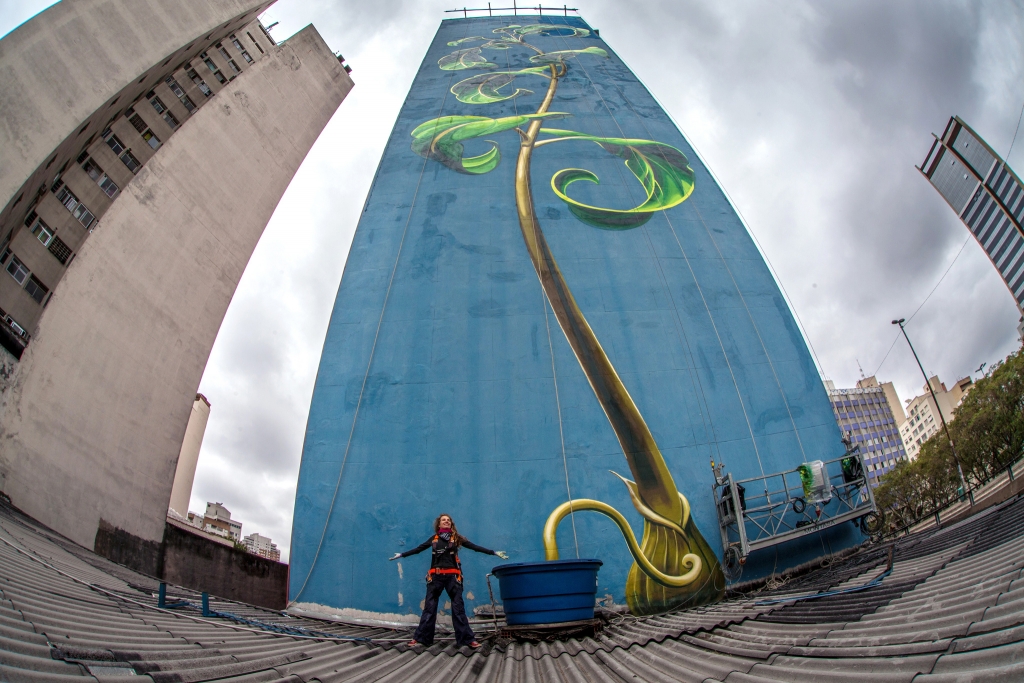 The 13 story tall painted seedling is tapping its water from a real water tank on the roof of the building in front of it.
The disproportion in scale of resource versus life-form might echo the water crisis of São Paulo, and is meant to allude to the remarkable amount of life that is being sustained on dwindling resources, both environmentally, and figuratively within our imaginary as we struggle for alternatives to our current destructive system.
---
Watch drone footage of the mural in progress in Renata Falzoni's interview with me on Gazeta TV:
Location
Praça Marechal Deodoro
Av. São João & Av. Angélica
Elevado João Goulart
São Paulo
Brazil
BR
Commissioned by
Virada Cultural 2015
of the City of São Paulo ministry of Culture.
Curator
Felipe Morozini
Size
10m x 35m
Assistants
Kadu Doy (Sosek), R.B.MorrisIII
Logistics: João Vitor Lage, Paula Carneiro
Special thanks
Senhora Mie
Tipuana Imagens Aereas
Gonçalo Gavino