<
Welcome to the online portfolio of visual artist Mona Caron. 
Internationally known for her multi-story murals celebrating the rebellious resilience of WEEDS, Mona is a Swiss artist who became a muralist in her adoptive hometown San Francisco, California, where she initially emerged with her community-specific murals featuring local history leading to collectively visioned positive futures (see narrative murals), and her work creating art for social movements (see artivism).
The shift towards her focus on clandestine urban plant life as a metphor of resilience occurred gradually, but originates from a deep personal connection since childhood to wild plants, part of a multigenerational and matrilineal family history of attention and dedication to such beings. 
Currently, Mona continues to create murals in public space, and enjoys working in collaboration with kindred-spirited artists and activists. Some of her graphic work, including an archive of past illustration work, can be found in the Studio wing of this website. Mona does her own photography and creates videos and animations to expand the messaging of her work. 
Follow mona on Instagram @mona.caron and on Facebook, where more of her videos can be found as well. 
---
---
Highlights:
2019: Among the 14 murals we created this year, check out the 13 story tall "weed" rooted in community titled Maskros, in Göteborg, Sweden;  a 10 story tall native medicinal plant named Cohosh in New York, and a magic-realist mural in Namur, Belgium. Among the smaller projects of 2019, I'm particularly proud of "Petal Vortex", my first mural done with natural mineral pigments in potassium silicate.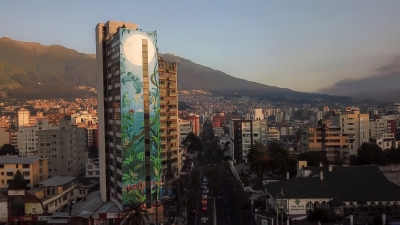 - February 2018: Completed the 2d phase of "Mujeres Custodias de Nuestro Hábitat en Peligro", 50 meters tall piece of Artivism in the form of a mural in central Quito, Ecuador,  painted with my comrade Raúl Ayala and dedicated to women protectors defending their land from extractivist projects.  Featured in this Al Jazeera report video,  and described more in depth here.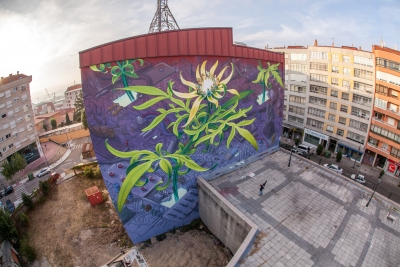 - Check out my epic collaboration with Liqen in a public art commission by the City of Vigo, Spain. 
- In late 2017,  professional conservators completed the painstaking restoration of my Market Street Railway Mural , my "giant miniature" featuring myriads of details about local SF history, originally painted in 2004.
---
Follow
- Mona creates videos. Subscribe to Mona's YouTube channel! 
- Follow me on Instagram @mona.caron ! Frequent own hashtag: #UrbanMacroHerbarium 
- Grateful for your support by liking Mona's FB page - thank you!