Mona is a San Francisco-based artist focusing primarily on creating murals in public space. 
Mona's works designed for the street include the WEEDS project, a metaphor about resilience;  as well as ultra-site-specific and community-immersive narrative murals reflecting the past, present, and future imaginaries of their neighborhood; her art-ivism with social movements; and several works in collaboration with kindred-spirited artists.
Some of Mona's graphic work, and an archive of past illustration work, can be found in the Studio wing of this website.
---
---
News: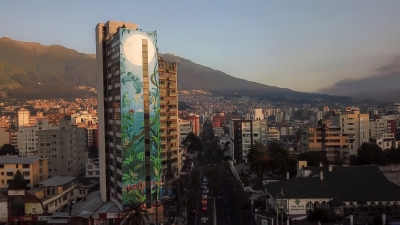 - February 2018: Completed the 2d phase of "Mujeres Custodias de Nuestro Hábitat en Peligro", 50 meters tall mural in central Quito, Ecuador, in collaboration with Ecuadorean artist Raúl Ayala. 
 - December 2017,  Kaohsiung, Taiwan, mural titled "Outgrowing", which government officials claim to be the biggest mural in Asia. 
- September - December 2017: We completed the restoration of the Market Street Railway Mural!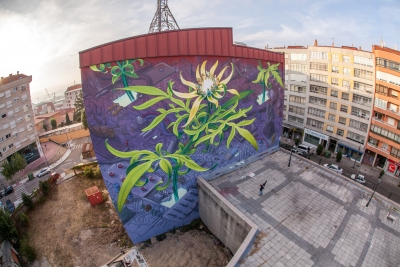 - July 2017: Check out my epic collaboration with Liqen, public art commissioned by the City of Vigo, Spain. 
- May 2017: did a couple of mural commissions through FatCap Agency in Dobbs Ferry New York and for Saje in Venice Beach, Los Angeles
- January 2017: Pedal Revolution! New mural for my community in San Francisco.
- January 2017: In the historic district of Portland, Oregon, finished the second of two "Weeds" on the old Postal Building. Check both the outdoor Fireweed and the Pacific Waterleaf in its inner public courtyard.
---
Follow
- Mona creates videos. Subscribe to Mona's YouTube channel! 
- Follow me on Instagram @mona.caron ! Frequent own hashtag: #UrbanMacroHerbarium 
- Grateful for your support by liking Mona's FB page - thank you!