Taking Root - in depth
This mural is painted on the first of many buildings that are slated for construction in this area, which is undergoing an impressively radical transformation. Once a polluted site, the land here was scraped and leveled, forming a tabula rasa for a brand new city. The first building to be built, developed by MidPen Housing and designed by SF's David Baker + Partners Architects, stood in the midst of a lunar landscape at the time of construction.
When I first visited the future mural site in January 2012, there was no person nearby, no traffic. All the topsoil of this formerly toxic superfund site had been freshly removed once more, and with it the memory of any vegetation therein. 
I scoured the ground for signs of live, and the closest visible thing to the mural site that I found was a small wildflower, amsinckia menziesii - a "common fiddleneck".
This was to be what I would feature in my mural at the largest scale: the tiny vanguard-flower, the resilient little tuft of green that made it back first, with the rest of nature following at its heels.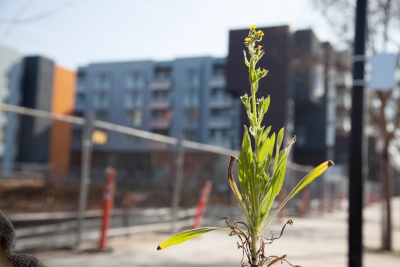 This little plant represents the unplanned kind of land healing that needn't wait for funding and civic processes to move forward. It wouldn't be long until that wildflower would be paved over again, covered with rubberized playground flooring, or replaced with obedient turf, as the land gets healed in a different way according to human needs and priorities. Nevertheless, I felt that this tiny rebel front runner of natural land reclamation, the bringer of a relief of chaos into planned order, was to be the hero of my mural, as it may be the first to disappear again. But not for long. 
The roots - the people
In contrast to the giant scale of the wildflower, there is a second part to the mural, at the roots of the plant, which contains small-scale details that the community helped envision.
I called a meeting with the newly arrived residents, most of whom are from sundry and distant origins, to find a way to express pictorially what heterogeneous roots our spontaneous plant will grow from.
It was a group of kids who suggested to write greetings or welcoming phrases in every language spoken at Station Center. In the words of Elias, the well-spoken 9 year old son of a Moroccan couple, "everyone here has roots in different parts of the world, and together we grow and blossom as a community." 
It wasn't necessary for me to collect the writings ahead of time: people just came and contributed them on the fly. Some wrote them on a piece of paper for me to copy, others painted theirs themselves. Mothers, teenagers, men at work, and seniors contributed a welcoming phrase in their language. It was fun when they each later returned with a gaggle of their peers to show it off.
One lady asked her brother in Taiwan, a calligraphy artist, to stylize a "welcome" in mandarin especially for this mural. I'm relieved to say I apparently did an ok job copying it.
Mubarra Ahmadyar from Afghanistan was among the building's residents. An art student, talented calligrapher, and mother of four, she became a precious helper with the lettering. I'm grateful for her help and pleasant company.
Remembering the past, dreaming the future
In addition to the "international roots", there are two shapes that also feed into the roots of the giant wildflower. One shows what came before, and the other imagines what could be.
The Past
There is evidence of Ohlone native americans inhabiting the banks of the nearby Niles river that feeds into the Bay nearby. 
Similarly as the rest of the Bay Area, the land first transformed into grazing land during the
mexican
ranchero period, and this area was known as Rancho San Miguel.
A powerful family from New Jersey, the
Horners
, took over the land in the mid 1800's for large-scale agriculture.
John Horner
's steam ship, The Union, carried produce to market in San Francisco. 
The land continued to be used for intensive agriculture until the early 1950's, Union City becoming particularly known for its gladiola fields. 
In 1952, on the exact spot where Station Center now stands along with my mural, the energy company Pacific Gas and Electric built a pipe coating plant and a refurbishing site for oil-filled electrical equipment, and by the time it closed in the late 70's, this land was
polluted
with heavy metals, PCB's, oily petroleum byproducts, and pesticides.
In the last decade, this Superfund site was cleaned. The earth was scraped up to 20 feet deep to remove the polluted earth to a nearby capped mound. What was left was a vast dead plain, a blank
tabula
rasa
upon which urban planners are now implementing an idea of "smart growth": developing a dense urbanity with lots of public space, as opposed to more suburban sprawl. 
Union City and MidPen Housing Coalition's plans are to build many multi-story and mixed-use buildings, clustered around a public transit hub and designed in bike and pedestrian-friendly ways, featuring energy efficient, LEED-platinum-certified buildings for affordable family housing and small businesses. 
During the initial brainstorm for this part of the mural, the children had a long list of wishes, some of them grand, like a lake, or a soccer field.
Adults were wishing for sensible practicalities such as closer proximity to grocery stores. When several recent immigrants additionally wished for an open farmers' market, it became quickly clear in the conversation that the item had less to do with produce than with a real memory and need for an agora, a more vibrantly interactive public space for adults. There is a big outdoor public space here already, but it is centered around children's needs. 
Backed up with enthusiastic nods from all other middle eastern women present at a community meeting, a mother wished for some sort of oasis for women only, where they may go to be quiet and recharge, or to support each other in their professional aspirations.
I added my own ideas as well, for example the series of tunnels beneath the BART train tracks, as I wish for this community not to remain fenced off by it from the rest of the city.