Windows Into the Tenderloin
<
Windows into the Tenderloin is a mural in, for, and about the Tenderloin District in San Francisco. The mural has several "windows" that show various views of the neighborhood, each with intricate descriptions of the street scene there, and different references to history, local legends, and a collaboratively envisioned future dreamscape of the community.
Countless little details in this mural were added in direct response to spontaneous interactions with the local population while painting. Among other things, they include just under 300 little figures based on real people of the neighborhood: not civic notables and heroes, but anyone there who wanted to be a part of it. 
This mural is therefore a time-capsule documenting this neighborhood's street life during a time that narrowly preceded a period of accelerated change in this City.
Due to the miniature scale of the detail, I invite you to take a closer look by perusing these "chapters" (also found on the navigation above):
The mural was painted from right to left, and its general narrative roughly follows this inverse direction from the normal English reading one. 
---
How the project came to be:
The project was spearheaded by the North of Market/Tenderloin Community Benefit District, who invited Mona to create a public mural at this location. The main, initial design was inspired by research through community meetings, and through neighborhood walks with residents and organizations. 
Of the gathered research material, items were picked to be represented based on the degree of engagement they seemed to elicit amongst the neighbors who contributed them. The mural also references urban legends, when these appeared to be particularly popular and thus meaningful tales in the community. 
The painting started in 2009, and the mural was dedicated in March 2010, many months later than expected due to the unusual intensity of the social interactivity of the process, which is the actual conceptual core of the artwork, the painting being merely its byproduct.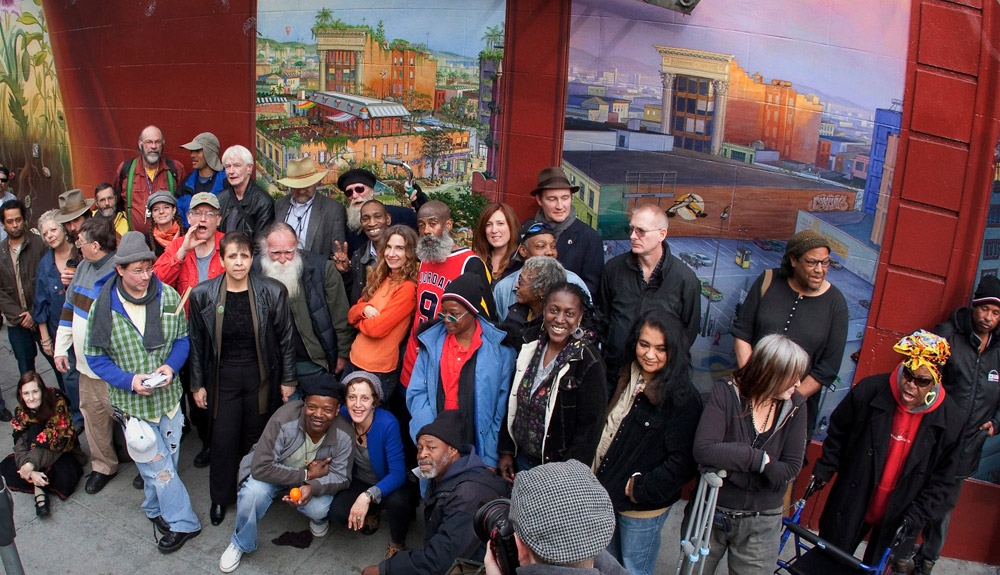 Location
Jones St & Golden Gate Ave
San Francisco
,
CA
United States
California US
A project spearheaded by The North of Market/Tenderloin Community Benefit District
Funded by San Francisco's Community Challenge Grant Program, and The Mayor's Office of Economic and Workforce Development.
Design and Painting by Mona Caron
project manager: Lisa Ruth Elliott.
Special thanks to Elaine Zamora & Joseph Leon, The NOM/TL CBC District Identity Streetscape Improvements Committee, Peter Field, Mark Ellinger, Dina Hilliard, 
Eric and Nikki Gunn Rodenbeck, Nick Kasimatis, Joel Pomerantz, The Kenneth Rainin Foundation The San Francisco Arts Commission, The Jack Sen Benevolent Association
Tiles created for the mural at the Central City Hospitality House Community Arts Program, and The Boys & Girls Clubs of San Francisco Tenderloin Clubhouse Art Program.