(Market St. Railway mural) SECTION 6: the 2000's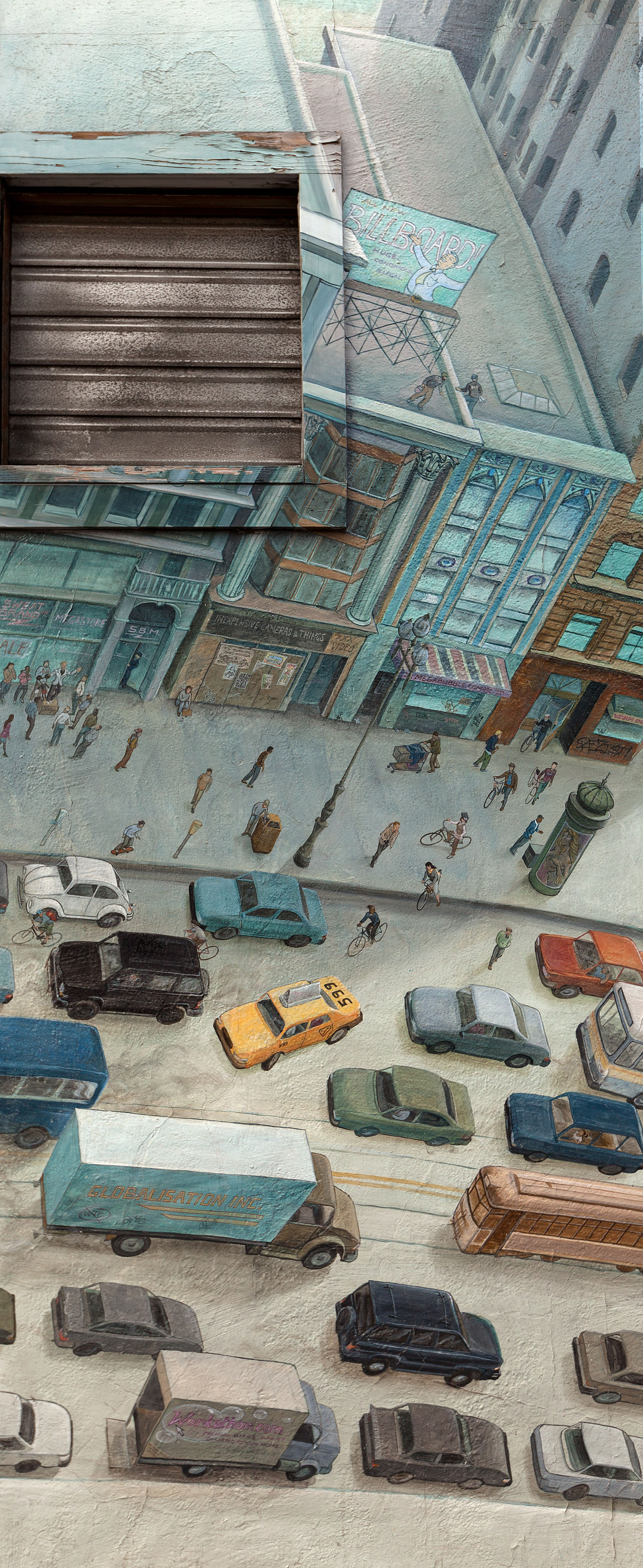 This section shows an everyday view of Market Street, contemporary to the making of this mural, in 2004.
Various figures based on real SF personalities are found on the sidewalk. A gaggle of them is depicted leaving the Grant Building, which at the time was still a building housing myriads of little offices for nonprofits and the type of creative groups and individuals that preceded - and were displaced by - the new "creative economy". 
A memento of the first dot-com boom-and-bust (2001) is emblazoned on one of the boarded-up storefronts to the left of the Grant building, while a commentary on the rapidly shifting lifestyle of the revving-up "new economy" is written onto the side of an open delivery truck towards the bottom of this panel.  
Every little tag on the boarded-up storefronts (as in every mural of mine) is based on a real tag found locally, placed there with their author's consent and instructions.
There are also miniature posters wheat-pasted on the vacant storefronts: those are also based on actual posters created by other artist friends, including folks at Mission Grafica, at Just Seeds, and some local artists including myself.
Further left, a character stands on a soap box with a Mickey Mouse doll, in front of "sweat-brand megastore". That is a tribute to our Reverend Billy of the Church of Stop Shopping, and more generally to the practice of political street theater.
References to invisible theater and culture jamming are also part of what's beneath the surface in this daily-life scene. A nod to the BLF (Billboard Liberation Front) is found up on the roof,  and within a few double-entendre advertisement placards.
In the street, the traffic is a mess. At the time of this painting, this section of the mural was supposed to stand in stark contrast to the public transit -oriented street of the past, as well as to the car-less utopian future envisioned in the future-fantasy panel.
Many things have since changed, as Market Street, and SF in general, has become dramatically more bike and pedestrian friendly, thanks to the efforts of the SF Bicycle Coalition and other alternative transit advocates.
Those, and other, surface improvements to City public infrastructure since the making of this mural, however,  eventually paved the way for a sneaky companion to improved street livability: gentrification.  And many of the activists who first pushed and creatively fought for more convivial, sociable streets, (a handful of whom depicted in this panel), have since been evicted and made to move out of the City they helped improve.